Baystone Bank Farm Campsite is situated in the south western Lake District National Park in Cumbria. The view from your doorstep will take your breath away, while at night the stars shine so brightly. On a full moon you won't even need a torch.
To the south is the Baystone Bank, where the farm name comes from. The ancient woodland on the bank and alongside the stream provides shelter for a wealth of birds and other wildlife, with the occasional deer and plenty of buzzards. If you like the idea of a small and peaceful campsite based on a working farm with sheep and horses meandering around, and buzzards soaring overhead, look no further.
Suitable for
Tents, campervans, motorhomes, caravans, dogs, you name it! Large groups by prior arrangement.
Nearby
Across the meadow is Baystone Bank Farm's very own horse riding centre, Cumbrian Heavy Horses. It is the world's only BHS-approved Heavy Horse Riding Centre (07769 588565), with magnificent shire horses with their great shaggy feet along with other breeds such as the Clydesdale, Suffolk Punch and Ardennes. There are miles of fabulous riding routes on the private farmland and beyond and a variety of horses to suit all levels of experience. Rides are carefully organised as instructional hacks, with tuition, with children's short rides, 1 hour and longer for more experienced riders. For those who prefer to stay on their own two feet, there are endless walking opportunities. A series of footpaths run through the farm, with routes up both Black and White Combe (the foothills are accessible from the campsite) and the rest of the National Park on your doorstep. Coniston Water (10 miles) is the closest of the main lakes nearby, but there are several smaller tarns that you can walk around, too including Rydal Water and Tarn Hows. Grizedale Forest is only 30 minutes drive away and offers miles of fabulous off road mountain biking.
Food & Drink
It's a 5-minute drive or a half hour walk to The Punch Bowl Inn (01229 774457) in the local village of Hallthwaites. The pub is right opposite the village hall (and the bus stop) and is rather unassuming looking from outside. There are outside tables round the back, though, and the food is decent and well priced. Best to ring the Punch Bowl to reserve a table though as they are not open on certain days during the winter months. For more options, drive the 10 minutes to Broughton-in-Furness, where there's a trio of good pubs open all year round. There is also theBeach Cafe at Haverigg by the sea where there is a playground for the young ones which is also about 8-10 mins away and the Harbour pub which is reasonably priced and offers a 3 course Sunday lunch which is good value. Do ask individuals, we have numbers for local establishments a plenty.
Bell Tents
There is a lovely area which was the farm orchard which now has four new wooden decking areas with four beautiful furnished bell tents with fairy lights and bunting galore! Kids can run free, enjoying the stream or relacing by the bell tent on the table and chairs enjoying the firelight (fire pits by side of decking, no BBQ or Fire on the decking PLEASE 😊 )
You will find more bell tents and THE ROUNDHOUSE on the terrace overlooking the campsite. All our bell tents are set up to provide an easy solution to your camping requirements, with a double bed and a double sofa bed inside. You do need to bring your own bedding and towels for a stay in the bell tents and your BBQ!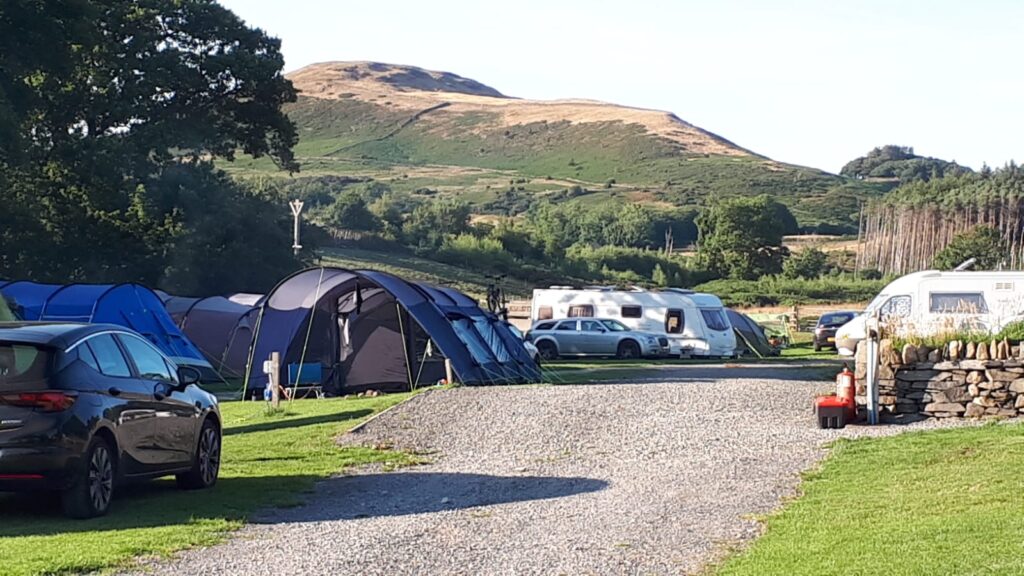 The Campsite
Grass pitches are located alongside a beautiful shallow running stream which is ideal for children to play in. The pitches are level and each one has its own fire pit area for campfires (logs sold onsite). Most pitches are close to the facilities.
Hardstanding pitches are slightly elevated overlooking the Whicham Valley. Each pitch is level and has its own fire pit area for campfires.
Cumbrian Heavy Horses
BHS Approved Centre – Heavy Horse Riding Experiences – Shire, Clydesdale, Suffolk Punch and Ardennes Horses – Horse Riding Holidays – 'Hands On' Experience Days – Farm, Fell, Beach and Trail Riding – Short 'Taster' Rides – Short Children's Rides in the Holidays
We are located in the Whicham Valley, in the South West corner of the Lake District National Park. This gorgeous little valley is an undiscovered gem, with great views across to Coniston, Duddon, and into the heart of the Lake District, but without the crowding of the Central Lakes it remains a wonderful, quiet area to ride.
The Roundhouse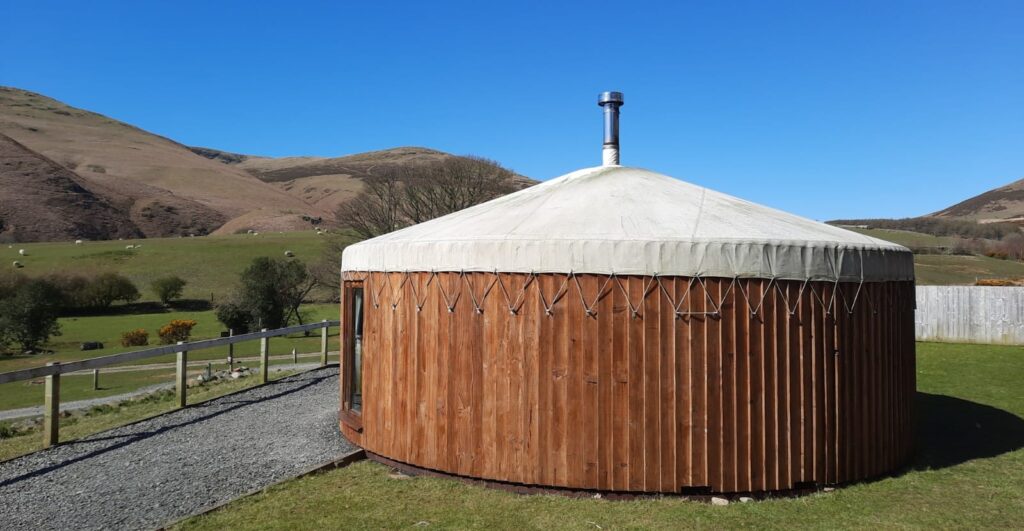 The roundhouse is custom built, with well insulated wooden walls and roof keeping you snug in winter and cooler in summer. The accommodation sleeps up to 4 and offers electric, heating, cooking and a lovely log burner inside. It has a fully equipped kitchen and all bedding and towels are provided – the best of the best that the site has to offer.
Well behaved owners with pleasant dogs are welcome and the bell tents and roundhouse are also pet friendly.
The Owner Says
Our personally made beautiful roundhouse is set in an idyllic location in the south west corner of the Lake District National Park on a working farm. The combination of soft wood and circular shape creates a very relaxing place – with the wood burning stove and dimmed lights it can be both practical (it has full electric and water) and very romantic. It has a lovely big bed for two, but can accommodate up to 4 – 5 people. The kitchen is fully kitted out with an induction hob, toaster, kettle microwave and fridge and sink with hot water. The showers and toilets are outside the Roundhouse only 20m away and immaculately clean. Currently bookable through Airbnb, enjoy!
Guest Access
The Roundhouse is situated on our campsite on a raised terrace with easy access to toilets and showers as well as washing facilities with hot water in addition to that in the roundhouse. It is on a working farm with cows sheep and horses so for health and safety reasons it's not possible to access other areas of the farm but there are some lovely walks directly from the site up onto Black and White Combe. Our nearest beach is only 3 miles away (5 minute drive) with glorious miles of largely unoccupied sand. We are currently developing some areas of the site but would hope that this is not creating any inconvenience to our visitors.
Interaction with guests
We are always about to chat but do bear in mind we spend our lives at the moment living to work as we try and get everything on the farm to a better standard and improved. If there is anything we can do to make your stay the best possible, please let us know in advance – if we can, we will!
If you would like local information or recommendations ask or check out the helpful folder in the roundhouse for ideas. We look forward to showing you our farm with its cats dogs sheep and heavy horses!